Assalamualaikum and Peace be upon all of you.
Welcome to my blog.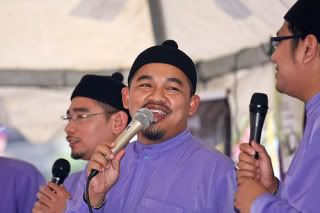 Mohd Asri Rabbani, 40, the main vocalist of Rabbani passed away at 11.45 am yesterday after unconscious at the P.Ramlee Auditorium, Angkasapuri. He and his team supposedly singing the theme song for the launch program of Syahadah season five for RTM. He died due to heart attack after been sent to Hospital Pantai, Bangsar.
He is put to rest at Muslim Cemetery Seksyen 21, Shah Alam, Selangor. The late Asri left his wife Haliza Shahadan, 38, and six children, Mohd. Nasimudin, 15; Mohd. Fathi, 14; Nur Afikah, 12; Mohd. Ilham, 10; Sufiyah Munawarh, 6 and Hamdi Rabbani, 4.
Asri is born in 3 August 1969 at Klang, Selangor and started his career with Rabbani since 1 March 1997. Before Rabbani, the team is known as Nada Murni.